AQUAGIV GmbH POCKING, Germany

The watermaker for your needs. All sorts of watermakers for your needs. Quantities from 0.8 litres per hour. Get all information and order online.
Presentation: www.aquagiv.equip4ship.com
Address: Germany, POCKING, 82343 Heinrich-Knote-Str. 3a
Contact person: Commercial department ,e-mail, website
Phone: +49 89 5090001
Fax: +49 89/12 50 9000 - 10

unselect all/select all
You have 0 products selected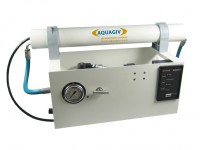 Compact, economical and quiet - very easy to operate and the best price-performance ratio. But above all, high water- and outstanding components-quality. Enjoy a new independence and improved safety on board. The AQUAGIV SILVER SERIES.